July 9, 2013
Comments Off

on Which female celeb is most likely to be the next big thing?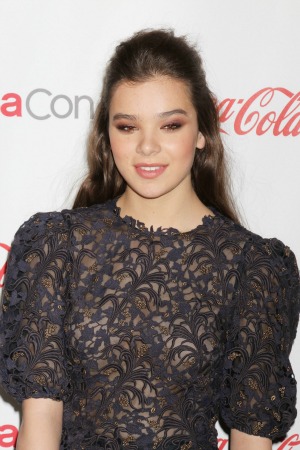 Hailee Steinfeld, Quvenzhané Wallis, Willow Shields and Elle Fanning are nomenees from Sheknows.com for most likely celeb to be the next big thing. See what they wrote about Hailee.
Hailee Steinfeld wowed critics with her slick portrayal of Mattie Ross in the Coen Brothers' 2010 Western remake, True Grit… a role she auditioned for eight times! Clearly, she made an impact, though — the 16-year-old just wrappedRomeo and Juliet, is filming The Keeping Room and has nine other films in the works.

You can vote for Hailee from here.
July 9, 2013
Comments Off

on Books To Read This Summer Before They Hit the Big Screen
Glamour.com made a list with books to read before we watch the movie. In that list are "Romeo and Juliet" and "Ender's Game".
Romeo and Juliet
Romeo and Juliet (October 25, 2013)
Shakespeare's tragic tale portrays two star-crossed lovers from warring families and their pursuit to be together. This time around, Hailee Steinfeld and Douglas Booth star as the iconic teenage couple.
Ender's Game
Ender's Game (November 1, 2013)
Ender Wiggin (Asa Butterfield) is a gifted child sent to a rigorous military school to prepare for a future alien invasion that will determine the fate of Earth and the human race.
July 8, 2013
Comments Off

on Enders Game at Comic-Con 2013
You can read the details for Enders Game and Divergent below.
Summit Entertainment presents a special sneak peek at the highly anticipated film adaptation of the beloved, award-winning novel Enders Game. This is a must-see for fans, who will be shown all-new, exclusive footage and treated to a Q&A with stars Harrison Ford, Asa Butterfield, Hailee Steinfeld, and Abigail Breslin, along with producer Roberto Orci (Star Trek Into Darkness) and director Gavin Hood (X-Men Origins: Wolverine). The panel will also feature the first footage ever seen of the futuristic thriller based on the #1 New York Times best-selling novel, Divergent. Cast and filmmakers will complete a Q&A sharing details of the project's transition from book to film. Panelists will include novelist Veronica Roth, director Neil Burger, and cast members Shailene Woodley, Theo James, Miles Teller, Maggie Q, Ansel Elgort, Mekhi Phifer, Ben Lamb, Ben Lloyd-Hughes and Christian Madsen.

Thursday July 18, 2013 3:50pm – 4:50pm
July 8, 2013
Comments Off

on Hailee-Steinfeld.com is fansite of the day in The Fan Carpet!
Hello everybody,
today I receive a message from The Fan Carpet that Hailee-Steinfeld.com was fansite of the day on Saturday, July 6, 2013. Now I am so happy because of this! The site is growing up and I want to keep it this way.
I have some problems with the pages and the gallery so expect them very soon!
Also the site is looking for affiliates – top and elite. If you are interested in affiliation with hailee-steinfeld.com, please send an email to admin@hailee-steinfeld.com and I will respond you to 24 hours.
Thank you!
July 6, 2013
Comments Off

on Hailee Steinfeld: 'I feel really confident just being me'
She's only 16 and was nominated for an Oscar at 14, but Hollywood Starlet, Hailee Steinfeld, has maturity beyond her years. Speaking exclusively to Company Magazine she states:
"For teenagers – and I mainly speak for myself on this one – you're put into this adult world and it's scary as anything can happen at any moment, but I'm just thankful my parents have raised me the way they have. I feel really confident just being me. I think a lot of the young actresses out there are the same – they've got really good backgrounds and families. We're just doing what we love and we're only doing it for that reason."
"… right now, I can still go to my local movie theatre with my friends and I don't get any hassle from anyone. In fact, I don't get hassled anywhere I go."
All that could be about to change as she's set to play Juliet in a new screen adaption of 'Romeo and Juliet' released at the end of the month. Speaking about choosing Douglas Booth as her Romeo, she reveals it was all about the chemistry:
"I was a part of the casting process. This was only my second film after True Grit and I remember then that Jeff Bridges said they were anxious about who they were going to cast as the girl – and I never really understood why, until I went through the test process with Romeo and Juliet. You have so many talented people, but it's all about finding the chemistry."
"As well as the chemistry between us, he was passionate about the project and took it seriously."
Opening up about being homeschooled, she admits it's hard not being with her friends:
"I was getting to a point where things were starting to pick up for me and I was getting a little bit busier and the school wasn't very supportive of that. It had to, at that point, be one or another. My parents looked into homeschooling – since dropping out of school is the last thing my parents would ever let me do. It's hard because I'm not in school with my friends. But I've had events that have compensated for that."
But, it's her older brother Griffin who's her best friend:
"… I'm a complete five-year-old when I'm with my friends. My brother [Griffin, who is a racing-car driver], is 19 and he's my best friend – we always do stuff together and hang out with our friends, so I've always been around older kids. I mean, obviously, I can be very mature but, when I'm with my friends, I'm very much my 16-year-old self.
Commenting on her involvement in the fashion world, she confesses it's still something she can't understand:
"People ask me If I've always been into fashion and my immediate answer is, "yes", but my way of being into fashion before all of this was going through a magazine and saying, "I love this dress," and cutting it out and putting it up on my wall. But now, it's like so, so crazy and on such a different level –and I have the honour of meeting all these incredible designers. Being the face of Miu Miu is something I still can't comprehend. It was such an incredible experience and fashion has become such a huge part of me on a real level."
The full interview appears in the August issue of Company Magazine, on sale 10th July.