May 28, 2014
Comments Off

on Met Ball 2014,Pitch Perfect 2 and more!
Hailee attended this year's Met Ball and was named "Best Dressed" by many magazines and fashion sites!
She also announced on twitter April 30th that she was to play a role in the Barden Bellas.She is now filming and recording for that.
Updates for both of these will be up soon!
April 29, 2014
Comments Off

on NYLON magazine cover!
Hailee has a lot of things coming up for her!
She recently tweeted out her NYLON magazine cover!She has got some gorgeous photoshoot pictures and so I have updated the gallery here  for you guys to see!

Hailee also attended the Hot Pink Party to raise awareness for Breast cancer.You can find pictures from the event here.
April 11, 2014
Comments Off

on New Admin
I am the new admin so look out for new updates soon!
July 9, 2013
Comments Off

on Which female celeb is most likely to be the next big thing?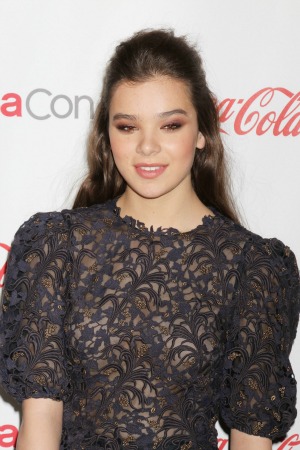 Hailee Steinfeld, Quvenzhané Wallis, Willow Shields and Elle Fanning are nomenees from Sheknows.com for most likely celeb to be the next big thing. See what they wrote about Hailee.
Hailee Steinfeld wowed critics with her slick portrayal of Mattie Ross in the Coen Brothers' 2010 Western remake, True Grit… a role she auditioned for eight times! Clearly, she made an impact, though — the 16-year-old just wrappedRomeo and Juliet, is filming The Keeping Room and has nine other films in the works.

You can vote for Hailee from here.
July 8, 2013
Comments Off

on Enders Game at Comic-Con 2013
You can read the details for Enders Game and Divergent below.
Summit Entertainment presents a special sneak peek at the highly anticipated film adaptation of the beloved, award-winning novel Enders Game. This is a must-see for fans, who will be shown all-new, exclusive footage and treated to a Q&A with stars Harrison Ford, Asa Butterfield, Hailee Steinfeld, and Abigail Breslin, along with producer Roberto Orci (Star Trek Into Darkness) and director Gavin Hood (X-Men Origins: Wolverine). The panel will also feature the first footage ever seen of the futuristic thriller based on the #1 New York Times best-selling novel, Divergent. Cast and filmmakers will complete a Q&A sharing details of the project's transition from book to film. Panelists will include novelist Veronica Roth, director Neil Burger, and cast members Shailene Woodley, Theo James, Miles Teller, Maggie Q, Ansel Elgort, Mekhi Phifer, Ben Lamb, Ben Lloyd-Hughes and Christian Madsen.

Thursday July 18, 2013 3:50pm – 4:50pm